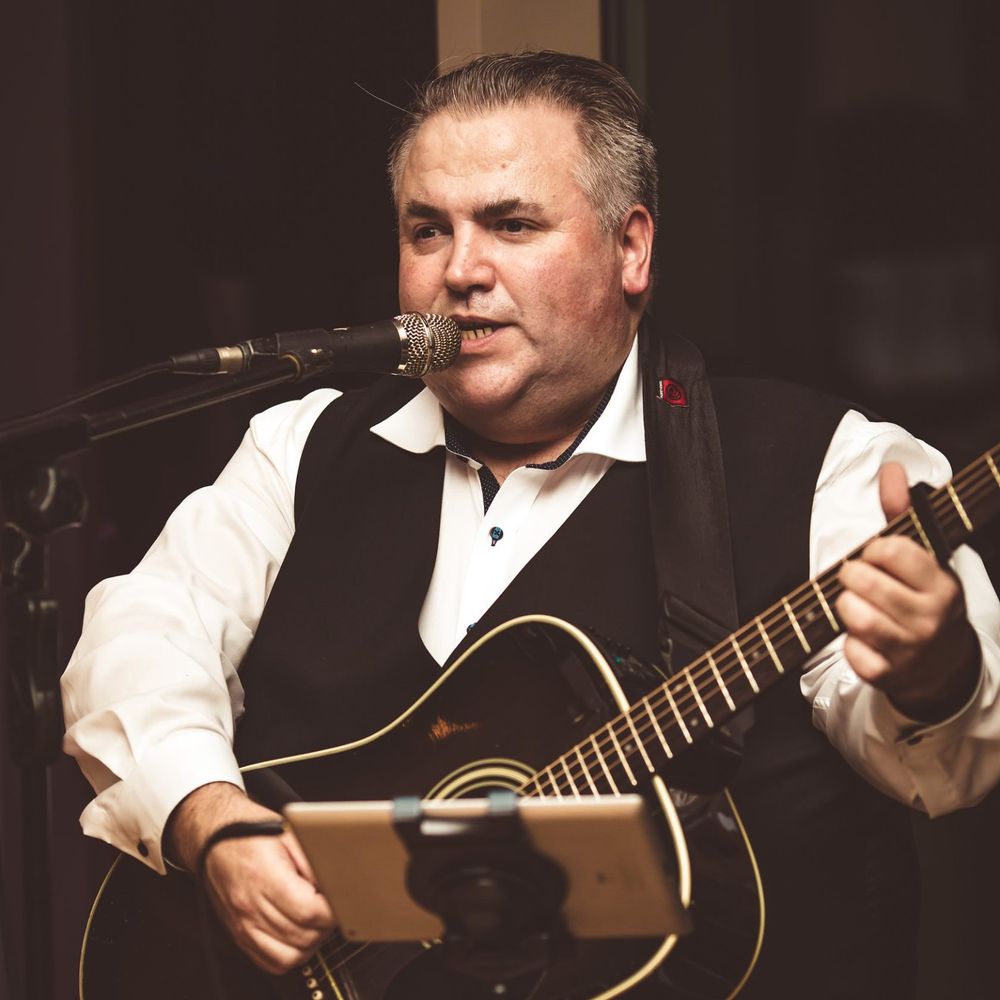 MEET THE MAN BEHIND THE MUSIC
This is john...
When the 2019 season of TG4's long-running show Glór Tíre was first broadcast, judge Jo Ní Cheide referred to John as having "the glint of a rogue" in his eye! That good natured remark perfectly captured the affection with which the Westmeath native is held by his peers and colleagues in the Irish country music world. Even his first time in front of the national tv cameras couldn't dim that genuine likeability factor that has always been a part of the 'Molloy charm'! 
Now living in the county Offaly village of Pullough, the last few years have seen John establish himself as one of the Irish social dancing scene's most popular and best-loved performers, with his name appearing on posters the length and breadth of Ireland, while also taking to the stage across the UK and Europe. Just why John has developed a reputation as one of the midland's favourite music men can be seen away from the stage, as much as when the one-time bar manager is in front of the mic with his trusted guitar.
As you'd expect from anyone mentored by the great Irish singer/songwriter Michael English on the aforementioned Glór Tíre, John is the consummate professional as an entertainer. With a voice that can wrap itself around any of country music's most celebrated songs, while equally treating some of Ireland's most powerful ballad numbers with the appropriate gusto or gentleness as might be required, John's ability to hold an audience in the palm of his hand has been proven true time and again. 
Off-stage, the man who grew up listening to artists like fellow Westmeath men Foster and Allen, the late Big Tom, Susan McCann, and American country icon Buck Owens while milking cows on the family farm, has retained a sense of humility and connectedness that many who have enjoyed John's popularity might have long lost. And even as his star continues to rise on the country music scene in Ireland, John is the same man as he's always been, a character trait that has been one of the foundations of his success so far. The John you see is the John you get. 
As music columnist Anthony Sullivan once observed when meeting John for an interview, "... as we walked through town last weekend on our way to grab a coffee, it seemed like everyone who saw John knew him, as shouts of 'hello' flew in from all sides, indicative of the man's popularity." 
John's love of people is perhaps matched only by his love of music itself. Not only is he an accomplished guitar player, John is, as he puts it himself while laughing, "a decent enough button-box player". But that self-deprecating sense of humour only serves to hide the fact that John's talent saw him take part in Fleadh Ceol competitions all over the midlands and Leinster in the mid-80s. 
In recent years, following his ascent to national attention via Glór Tíre, John has become a regular on the bill for Paul Claffey's country music trips abroad. And, having released singles like his two iTunes #1s, The Greatest Gift Of All (a duet with Sabrina Fallon) and Don't Tell Me What To Do, plus The Road, Sing Me Back Home, and more, John released his debut long-player - Introducing John Molloy - in April 2020. 
You can follow John on Facebook and Instagram by searching for 'John Molloy Country', and you can find his music on Spotify. 
Photo Credit: John Finnerty